CHECK OUT ALL THE YUM!
Strollo's Lighthouse ORIGINATED the concept of dispensing Homemade Italian Ice through a soft serve machine...and the rest is history!
Homemade Italian Ice

The Strollo tradition lives on in each squeeze cup! We originated the concept of dispensing Italian Ice through a soft serve machine, and the rest is history! BTW – did you know that our flavors like lemon, orange, cantaloupe, and pineapple use 100% natural ingredients??!

Soft Ice Cream

Perfectly creamy, light, and delicious, our Soft Ice Cream is 100% yum...in a cup, alone in a cone, or side by side with your favorite Italian Ice! Top it off with a hard dip, syrup, sprinkles, candies, or all of the above – delish!

Shakes & Hurricanes

Breezes and Milkshakes and Hurricanes – OH MY! Mix them, blend them, the possibilities are endless and we can't wait to create your perfect combo! Made with Soft Ice Cream, Italian Ice, or BOTH – the choice is yours!
Want more?
The quality of our homemade products is the backbone of our success. Since we originated the concept of dispensing Italian Ice through a soft serve machine, we can ensure the quality of our product time and time again. There is no difference from the first ice to the last; our machines keep it churning.
Customer Raves & Faves
"FAVE"

"Cherry ice and Chocolate soft serve with choco sprinkles😍"

"🔥👏😍"

Amanda's F a v e :

"Blue Raspberry, Lemon, and Orange ice!"

"Friendliest staff❤️"

Olivia's F a v e :

"MINT CC🍦💚"

"Always kind!"

"I love how they are always kind when you walk up!"

Adrianna's F a v e :

"Chocolate Soft Serve in a Cone with Sprinkles "

"Eat on the beach!"

"I love Strollo's Lighthouse because I can get my order & eat it on the beach!!! "

Goldie's F a v e :

"Chocolate Soft Serve with Peanut Butter Ice and Chocolate Sprinkles"

"Second Family"

"I love the amazing ladies that I work with at the Red Bank store. They seriously are my second family❤️"

Gabby's F a v e :

"Blue Razz in a Cone with Cookie Dough"

"PBJ inspo"

"Peanut Butter ice with Strawberry soft serve🔥"

"The Varsity."

"The Varsity. Everyone else is JV…"

"FAVE"

"Mango ice with Coconut soft serve!"

"Cookies on cookies!"

"Oreo ice cream shake with cookie dough😋"

"IYKYK"

"Peanut Butter ice with chocolate crunch!!"

"So basic😂"

"I love the Vanilla soft serve. So basic but so good🙈"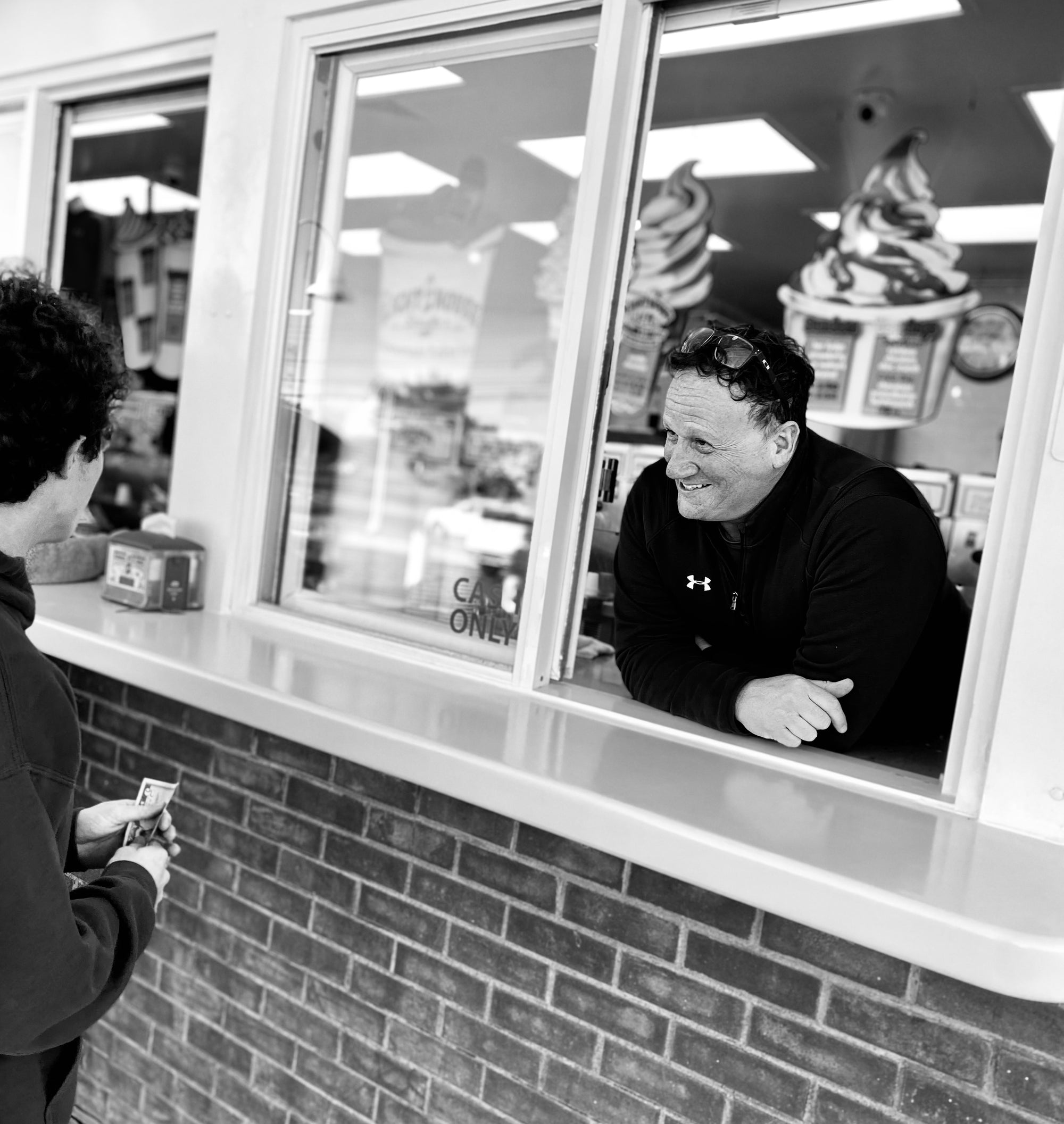 A Family Tradition for Decades
Tony Strollo brought his family recipe from Italy to Long Branch as a child. He made it in his garage and hauled it to the beachfront in an old bus he converted. For decades, Strollo's meatball and sausage sandwiches, hot dogs, and his homemade Italian Ice were part of the fabric of summers at the Shore. When families came to Long Branch, they splashed in the Atlantic Ocean, tanned on the beaches, and had at least one of Strollo's Lemon Ices.
Tony passed his secrets along to his son Ray, who carried on the family tradition in the '70s. In 1976, Ray opened his first store and called it Strollo's Lighthouse. The high demand forced Ray to find a way to make more of his homemade Italian Ice without losing any of the great flavor. He recruited a friend in the soft-serve ice cream business and together they came up with the means to stay true to the recipe, make it as a liquid, and have it stream out of a soft-serve machine with brilliant results. Their ingenuity produced a very consistent product that could be made much faster than by way of the old scoop method. Ray then added Orange, Cherry, and Chocolate to go along with the traditional Lemon…and Strollo's Lighthouse soon became more popular than ever!
To staff his growing store, Ray hired his nephew to man the counter. Little did Ray know that his 13-year-old nephew, Jimmy Callano, would eventually take the Strollo tradition to the next level.
Lighthouse Hoodies, Tees, Gift Cards...and more!
Visit our individual locations in person to purchase your Strollo's Lighthouse apparel and gift cards.
NEW MERCH AND ONLINE ORDERING COMING SOON!
Strollo's Lighthouse White Hoodie

Strollo's Lighthouse Gift Cards

Strollo's Lighthouse Red Hoodie
We love serving up smiles!
Helping to create smiles and sweet moments is the best part of our business :) We LOVE our customers and how much they love us! Enjoy our "SMILE!" Gallery and share the Strollo's Lighthouse LOVE!
Our Locations
LONG BRANCH

250 Ocean Ave. North
Long Branch, NJ 07740
(732) 229-1222

RED BANK

64 North Bridge Avenue
Red Bank, NJ 07701
(732) 933-9803

WEST END

69 Brighton Avenue
Long Branch, NJ 07740
(732) 222-1599

POINT PLEASANT BEACH

101 Ocean Avenue
Point Pleasant Beach, NJ 08742
(732) 295-9453

BELFORD

83 Leonardville Road
Belford, NJ 07718
(732) 787-2350
HOURS OF OPERATION AND FLAVORS OF THE DAY VARY BY LOCATION.
Please call individual locations for details!
Subscribe and you won't miss a thing!
Be the first to know about news and special offers.